Dear friends and colleagues,
During recent years there have been major advances in understanding pathogenetic factors in multifactorial age-related macular degeneration (AMD). The recent revolution in genetic, and molecular biological and other -omics analyses as well as imaging and AI-based analyses has contributed significantly to our understanding of AMD. However, many open questions are still to be addressed.
We are approaching an era of new targets for therapy based on better differentiation, refined phenotyping and predictive markers of age-related macular disease.
Four years after the last international Baden-Baden AMD meeting it appears timely to review novel ideas and emerging concepts. We would like to invite you to beautiful Baden-Baden in the heart of the Blackwood Forest to the
VIII. International Symposium on Age-related Macular Degeneration
- Understanding pathogenetic mechanisms -
We invite you today to submit an abstract for a paper or rapid fire presentation via www.amd2023.org
Deadline for submission is April 15th, 2023.
We look very much forward to welcoming you in Baden-Baden.
Daniel Pauleikhoff

Frank G. Holz
Topics include
Pathogenetic mechanisms
Genomics, Proteomics, Metabolomics in AMD
Mechanisms of RPE cell death
Strategies to prevent photoreceptor and RPE cell loss
Innate immunity and chronic inflammation
MNV differentiation and characterisation
Perspectives and new therapeutic strategies in early and intermediate AMD, geographic atrophy and nevoascular AMD
(as of February 2023):
Thomas Ach, Bonn/D
Kevin Achberger, Tübingen/D
Alan C. Bird, London/UK
Barbara A. Blodi, Madison/USA
Volker Busskamp, Bonn/D
Christine A. Curcio, Birmingham/USA
Usha Chakravarthy, Belfast/UK
Rui Chen, Houston/USA
Emily Y. Chew, Washington/USA
Cathrine Cukras, Washington/USA
Karl Csaky, Dallas/USA
Andrew Dick, London/UK
Jianhai Du, Morgantown/USA
Sascha Fauser, Basel/CH
Robert P. Finger, Mannheim/D
John G. Flannery, Berkeley/USA
Monika Fleckenstein, Salt Lake City/USA
Bailey Freund, New York/USA
Robyn H. Guymer, East Melbourne/AU
Jill J. Hopkins, Basel/CH
Carel B. Hoyng, Nimwegen/NL
James B. Hurley, Seattle/USA
Glenn J. Jaffe, Durham/USA
Glen Jeffery, London/UK
Jost B. Jonas, Mannheim/D

Caroline C.W. Klaver, Rotterdam/NL
Clemens Lange, Münster/D
Imre Lengyel, Belfast/UK
Sandra Liakopoulos, Frankfurt/D
Andrew J. Lotery, Southhampton/UK
Jordi M. Mones, Barcelona/Spain
Robert F. Mullins, Iowa City/USA
Michel Paques, Paris/FR
T. Peto, Belfast/UK
Maximilian Pfau, Basel/CH
Philip J. Rosenfeld, Miami/USA
SriniVas Sadda, Los Angeles/USA
David Sarraf, Los Angeles/USA
Giovanni Staurenghi, Milano/IT
Steffen Schmitz-Valckenberg, Salt Lake City/USA
Florian Sennlaub, Paris/FR
Sobha Sivaprasad, London/UK
Lois Smith, Boston/USA
Richard F. Spaide, New York/USA
Janet R. Sparrow, Boston/USA
Anand Swaroop, Washington/USA
Adnan Tufail, London/UK
Marius Ueffing, Tübingen/D
Francesci Viola, Milano/IT
Peter Westenskow, Basel/CH
Friday, September 8th, 2023
at 20:00h

For all participants:
Social event and gala dinner
Orangerie at Brenner's Parkhotel

Price per person (incl. dinner & drinks):
Regular: € 80
Resident/Fellow & Student: € 55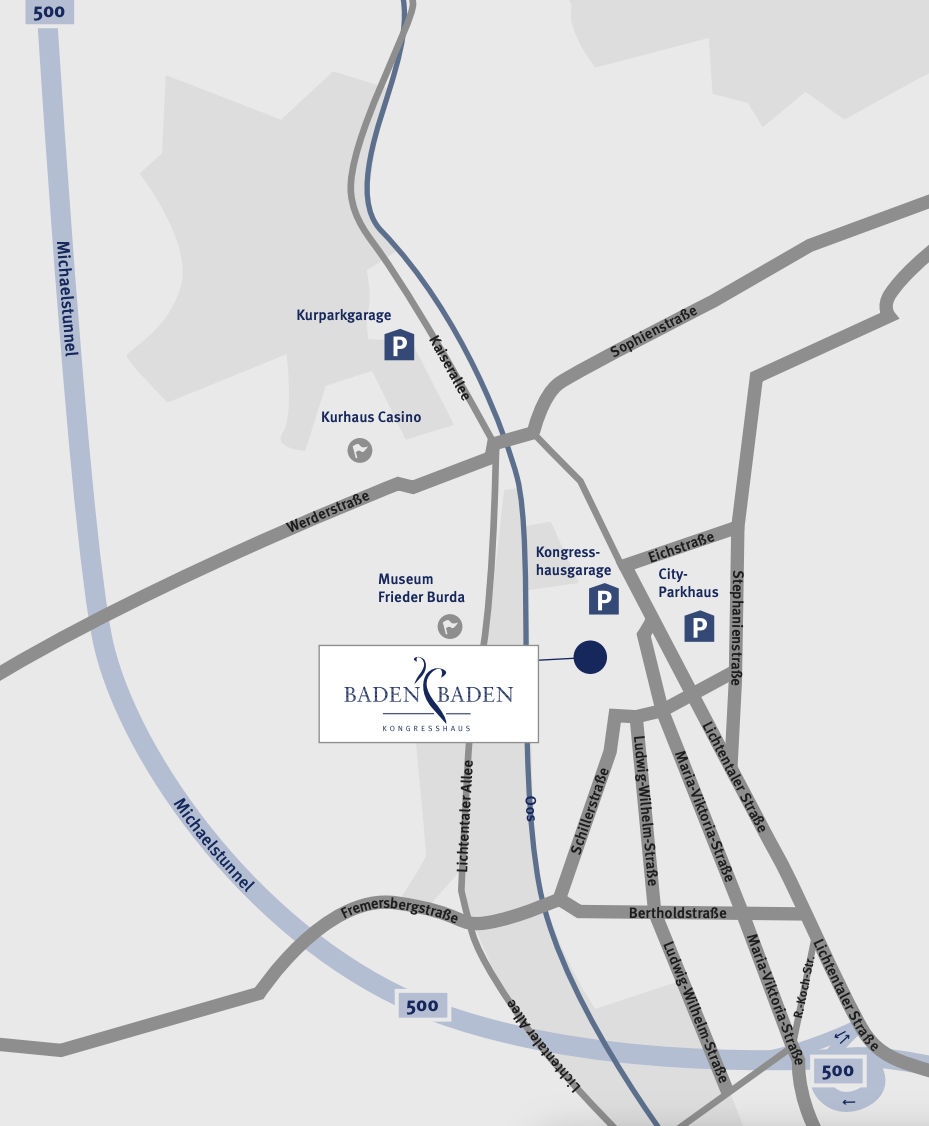 By plane:
International airports
Frankfurt 170 km / Stuttgart 100 km / Basel/Mulhouse-Freiburg 160 km / Zürich 300 km / Strassburg 60 km – frequent train connections for all airports via Deutsche Bahn
Regional airport Karlsruhe / Baden-Baden (Baden-Airpark)
at a distance of 15 km with regular flights e.g. from Hamburg, Barcelona, Belgrad, Budapest, London (Stansted), Porto and Rome (Ciampino) to Baden-Baden. Flight connections from numerous destinations non-stop by Eurowings, Ryanair, Turkish Airlines, Wizz Air and many others.
Detailed information: www.baden-airpark.de/en/

By train:
The train station Baden-Baden is a stop for ICE/EC/IC/IR trains as well as all other regional trains. Main lines Basel / Hamburg, Basel / Rhineland, Basel / Berlin and Paris / Vienna via Stuttgart and Munich. From the train station Baden-Baden Oos and all other bus stops you can reach the city centre and the surroundings comfortably and fast by bus. Strassburg (France) can be reached in about one hour. To get to Heidelberg, Freiburg, Stuttgart or Basel (Switzerland) it takes about 1,5 hours by train.
By car:
Motorway A5 Frankfurt-Basel: Exit Baden-Baden / Direction Centrum/Congress
B500 France-Black Forest-Switzerland: Exit Baden-Baden / Direction Centrum/ Congress
Navigation settings
Augustaplatz 10
76530 Baden-Baden
Germany
Parking
Kongresshaus underground car park
at the Kongresshaus
Augustaplatz 10, 76530 Baden-Baden
Venue

Kongresshaus Baden-Baden
Augustaplatz 10
76530 Baden-Baden
Germany
www.kongresshaus.de

Scientific program

Prof. Dr. Daniel Pauleikhoff
St. Franziskus Hospital
Department of Ophthalmology
Hohenzollernring 74
48145 Münster, Germany
E-Mail: dapauleikhoff@muenster.de

Prof. Dr. Frank G. Holz,
FEBO, FARVO
Department of Ophthalmology
University of Bonn
Ernst-Abbe-Straße 2
53105 Bonn, Germany
E-Mail: Frank.Holz@ukbonn.de

Organisation

Organisation:
Congress-Organisation Gerling GmbH
Werftstraße 23, 40549 Düsseldorf, Germany
Phone: +49 211-59 22 44 E-Mail:
info@congresse.de
Homepage

Date

Friday, September 8th, 2023
08:30h - 18:30h

Saturday, September 9th, 2023
08:30h - 17:30h

Official Language

English

Abstract submission

Please submit your abstract online: Registration

Deadline for Abstract submission:

April 15th, 2023

Deadline for early registration:

August 1st, 2023

Fees

| | | |
| --- | --- | --- |
| Booking | before August 1st, 2023 | after August 1st, 2023 |
| Regular | € 370 | € 400 |
| Resident*, Fellow* | € 210 | € 240 |
| Student*, retired, unemployed* | € 155 | € 180 |

incl. VAT and excl. foreign transfer fees

*presentation of appropriate proof of status is required at the time of online-registration or may also be sent by e-mail to service@cogresse.de; otherwise the regular fee will be charged.

Payment
by bank transfer (bank details are quoted on your confirmation) or by credit card: VISA, American Express, Mastercard, PayPal

Important notes for participants
Reduced participation fees only apply upon appropriate proof of status.
Registration fees include lunches (Friday & Saturday), several coffee breaks and the summary of the abstracts.
If you register late or on-site we cannot guarantee for lunch and/or participation in the social program.

You are encouraged to apply for the meeting either online, by mail or by fax. Cancellation for the symposium has to be made via e-mail to service@congresse.de by September 3rd, 2023 and is subject to an administration fee of €50. No refunds can be granted for cancellations received after September 3rd, 2023. Changes, errors and misprints excepted.

Presentations

Paper: 5 min presentation & 1 min discussion
Rapid Fire Presentations: 2 min presentation
Poster: Pinboard 1.60 m height x 1.30 m width

Hotels

See list of hotels on the online registration form.